How well major sports rights-owners can understand and analyse data around their target buyers can be the difference between success and failure when forging a hospitality strategy.
When looking to sell out available inventory, maximise revenues and offer the best possible experience for customers, the blanket approach no longer works. Customer data – specifically information on demographics, behaviours and attitudes – provides the 'who', 'what' and the 'why' behind a successful hospitality strategy.
Your client mix is the first place to start – being able to identify and separate individuals from corporate accounts will quickly highlight the dynamics of your customer base, and the extent to which it has changed over a given period of time. Individuals may be in a financial position to afford and consider hospitality now for the first time – and the customer data will show you.
For an effective strategy, demographics must be more than just age and sex – data should be enriched using tools that, for instance, use an individual's postcode to understand the socio-economic influences on their lifestyle.
Similarly, rich and readily-available business data can help quickly identify the size and growth potential of client leads, and help you better understand the nature of the market you're operating in.
The insight that can be derived from behavioural data is of significant value when looking to grow your hospitality business. Hospitality is an 80:20 business – generally speaking the vast majority of revenue will come from a small proportion of clients – and that is important to bear in mind when identifying the clients that contribute most to the bottom line.

Just imagine knowing the types of catering options higher-spending clients purchase most regularly, what time they respond to phone calls and last came online, whether they've sold their seat for the last five events or whether the next one will be their very first. Using this intelligence to respond to current and potential clients' needs and preferences and rewarding them accordingly could be the difference between success and a stagnant hospitality offering; at Two Circles we've seen hospitality businesses with levels of client churn in excess of 60%, and sales teams that weren't even aware of that being a problem.
Hospitality clients will invariably have different motivations and objectives for entering into a 'premium' relationship with a sports organisation. Understanding these attitudes within both the context of your business and the wider market is crucial in understanding how your hospitality offering makes you different to the competition.
Impact
A data-driven approach gives a solid base to build a hospitality strategy, and key intelligence to plan resources – for example, whether agents are needed to service customers, or if it can all be done in-house; how to respond to different leads, and what products need to be created and at what pricing tiers.
Once this structure is put in place, a rights-owner needs to split focus between new business and retention. Across the sports industry the latter is hugely undervalued when building a marketing strategy, and there are too many examples of hospitality businesses that engineer teams and processes around acquisition, only confronting retention when it comes to renewal periods.
The best hospitality businesses are those that have a strong understanding of their customers' behavioural, attitudinal and demographic profiles. Contact and contract details will only allow you to manage and administer your hospitality business – accessing the right data will enable you to create, build and retain strong relationships with your clients and grow it.
And though you won't be able to shake every new client's hand when they renew or exhibit positive behaviour, technology allows you to remind customers that you care – at the right time, and in the right way.

The sports hospitality sector has seen a large shift in recent years; today, big multi-national corporates are no longer most likely to be the majority in hospitality areas – outnumbered instead by SMEs (small and medium-sized businesses) and individuals, both of which have money to spend on mid-market, more accessible experiences previously unavailable.
For the most successful rights-owners, these new experiences have been developed thanks to – and as a result of – a deeper understanding of their evolving customer base; by finding out who their clients are, what they want to buy and why they buy it.
Do current or potential clients want, for instance, a more informal experience? A more exclusive, money-can't-buy experience? Or do they want access to facilities and business networking? Or, actually, is the attraction more about being part of a community with exclusive benefits that extend beyond one location or the event day, such as a private members' club?
From our work helping some of European sport's leading rights-owners assess and evolve their hospitality offer, we've identified three principles for success when creating new hospitality experiences.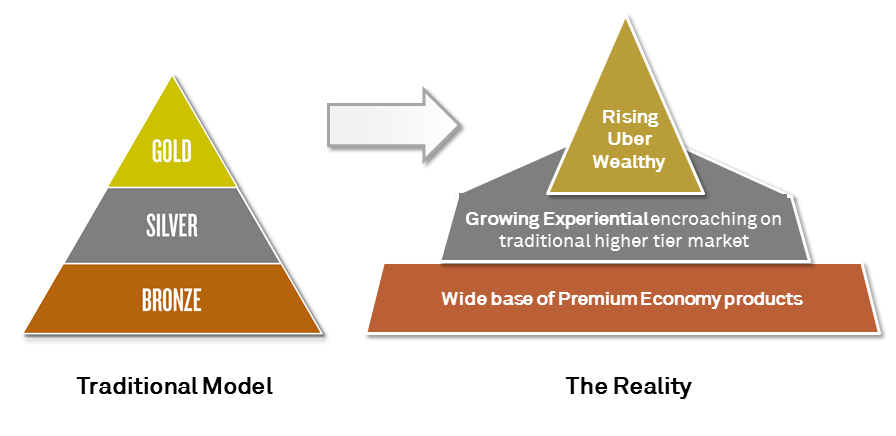 From Pyramid to Witch's Hat
Until recently, most rights-owners have created a tiered hospitality offering using a pyramid structure – with entry-level bronze packages at the bottom and high-end gold packages at the top.
Now, the most effective structure is a witch's hat, with a much larger volume of entry-level, 'premium economy' hospitality packages at the bottom-end, and a much more narrow tiering of packages on top.
Our client Liverpool FC, for example, added 2,000 new premium economy seats to Anfield through the Dugout hospitality offering in its new Main Stand, which opened in 2016.
Make booking easy
Both corporate and individual customers respond positively when a rights-owner creates hospitality experiences that are flexible and can be purchased as easily as possible. That means a choice – albeit not an overwhelming choice – of options with flexible terms (such as tenure, minimum guests and payment options) and are delivered to the customer at their fingertips (not, for example, forcing them to call a sales team between 9am and 5pm).
Important, too, is ensuring a customer can book directly with you rather than through an agent. Whilst agents can play an important role in hospitality businesses, the authenticity, credibility and not to mention data-capture that comes with a direct relationship with a customer must not be underplayed.
At French football club Lyon's Parc Olympique Lyonnais – opened in 2016 – clients have access to their box 365-days-a-year, not just for matches and concerts, but if they need a second office on any given day or week. Through the club they can also book additional use of the stadium auditorium should they require hosting large meetings or events on an ad hoc basis.
Stay true to tradition
When creating new experiences, the approach needs to be one of evolution, not revolution. Rights-owners need to innovate without alienating their audience – so while it might be appealing to think completely leftfield and create experiences that stand out from the crowd, it is vitally important to stay true to your traditions.
At a time when all aspects of life seem to be changing rapidly, sport provides a constant familiarity which you need to stay true to.
Liverpool, for example, recently signed a supplier deal with Halewood Wines and Spirits, headquartered seven miles from includes Liverpool Gin and Liverpool Vodka – to Anfield's hospitality areas. These local high-quality products help create experiences that are both authentic and familiar, and celebrate the local area.

Innovative rights-owners are driving significant growth in event-day revenues through new and improved hospitality offerings. However, a strong customer-centric proposition will only be maximised if it's taken to market in the right way – and this is where some rights-owners can fall down.
Having worked with some of sports' most innovative rights-owners, our experience has shown us that those with the best performing hospitality businesses have been successful in three areas: processes, systems and people.
Processes
We've already mentioned that hospitality is an 80:20 business – that means a sales team's personal communications should be concentrated on the smaller proportion of clients who are generating the majority of revenues.
Too many rights-owners focus on anyone and everyone in one blanket approach – the focus of a sales team's one-to-one communications should be in the minority, while mass communications and automated campaigns targeting the majority should sit with the marketing team.
Too many rights-owner sales and marketing teams also set unsophisticated KPIs, such as calling or e-mailing a customer a certain amount of times. Instead, KPIs should be more impactful – such as around generating a certain percentage of the right type of leads or conversion-rate targets.
Systems
Technology plays a crucial sales role in two distinct areas – in the front-end platforms used by customers to purchase, and in the back-end systems used to process and fulfil sales and used for marketing purposes.
On the former, if rights-owners are flexible in their hospitality offering, they should be using technology, integrated into digital platforms, to give customers easy access to a choice of lower-end inventory. The 'Do It Yourself' approach is becoming increasingly important for lower-end hospitality packages and individual buyers – so why should a sales team wait to deal with a sales enquiry on a Monday morning when your customers can facilitate the sale themselves over the weekend?
On the back-end, any successful application of technology is only as good as the data it is processing. Harnessing the power of the data in the sales and marketing functions will help build better relationships with the most valuable prospects, whilst also enabling more efficient management and marketing to 'the tail'.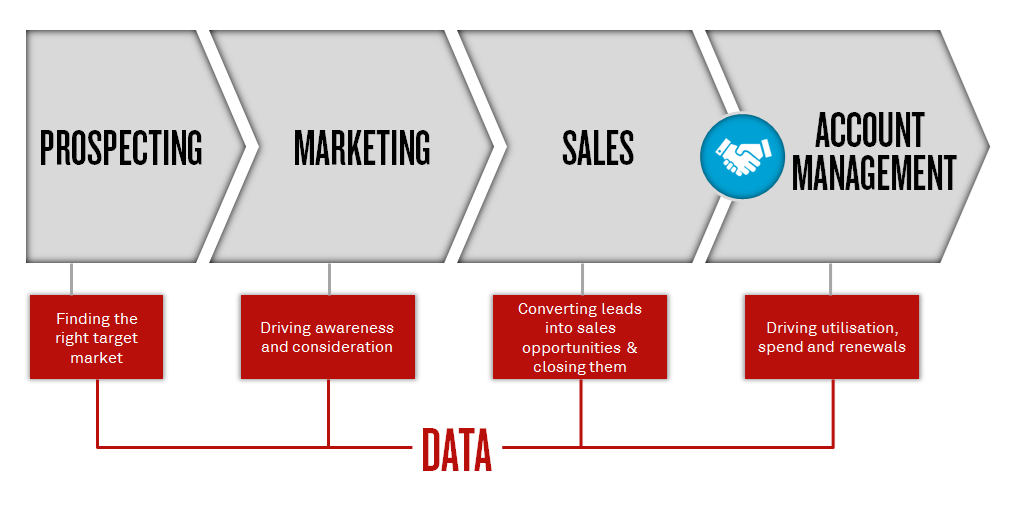 People
At Two Circles, we've long said CRM isn't a thing.
It's an acronym much mistaken for a technology system that automates contact with a rights-owner's customer base – 'Customer Relationship Management' is, in fact, a philosophy at the heart of any people-servicing business. Therefore, when selling premium experiences, the sales culture needs to be right.
For example, a rights-owner needs to put in place internal processes where sales people working in different teams work harmoniously, and are incentivised to talk to high propensity prospects about their full offering. If a customer says, for instance, that they don't want a meeting and event space anymore but were thinking about taking an annual hospitality package, internal business functions should be aligned so that the customer lead is passed, in good time, onto the right person, who is acting on behalf of a rights-owner's various business departments.
For many rights-owners this is a big cultural shift, as sales teams have been traditionally split into silos that have little internal dialogue and haven't co-operated together for the greater good of the organisation.
Cultural change isn't straightforward to implement, but the positive long-term implications can be huge. And a culture of collaboration and co-operation also needs to be applied to partners and suppliers – they should be respected, supported and challenged when needed, but most critically given the tools they need to attract and sell to the type of clients who will support a long-term strategic vision for the rights-owner.
The three areas of processes, systems and people are all as equally critical as each other; even a rights-owner that does only one or two of them right will still fall significantly short of its growth objectives.
Related Article
Related Service